Stay celiac safe & enjoy being part of social events with family and friends.
ARE YOU..


Stressed AF eating gluten-free around friends or family?


Nervous about an upcoming wedding or barbecue and no CLUE what you'll eat?


Struggle to speak up when ordering food in a restaurant with celiac?


WISH you could feel more comfortable speaking up for yourself but still stay safe from gluten?!


You aren't alone.

When you have celiac disease:


-Your diet can feel isolating and lonely being the ONLY one who can't eat something


-Going to a restaurant, wedding, or holiday is a gluten exposure risk, so you might think "Ugh, why risk it? Why bother?"


-Family or friends that don't understand your needs can be extra challenging

-All the speaking up is just exhausting sometimes!

So if you want to feel confident of what you'll eat the next time you grab dinner with friends, attend your sister's wedding, go to your Aunt's house for Thanksgiving, or head out to a work lunch with your colleagues...

IF you want to get your FREEDOM back and not miss out on those precious moments with family and friends..

And you want to come home from these events NOT exhausted, sick, or starving, but PROUD OF YOURSELF, and GRATEFUL you can STILL participate..

This mini-course is for you.

By the end of this course, you'll be able to say YES to:

-Restaurants & Bars
-Weddings
-Bachelor/Bacherlorette Parties
-Holidays
-Barbecues
-Work Events
-Dinner Parties

And you will have a PLAN TO not go hungry and stay celiac safe, no matter where you are going!


You'll know how to eat safely around family & friends

You'll have tools to speak up for yourself, and avoid mental burnout.


Plus, this is a easy-to-use resource you can quickly reference for any event that comes your way!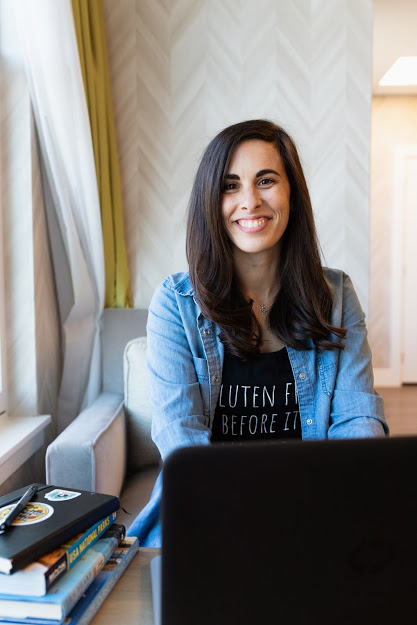 I've been in your shoes.


After thirteen years with celiac, I know personally how challenging it can be to eat gluten-free. Especially around others!

Today as a celiac coach, I help my clients continue to have a social life while avoiding hanger, burnout, and gluten exposures.


WHAT YOU GET:


-
Seven mini modules
 with video trainings to help you eat gluten-free & celiac safe at events that involve food

-
the CALM Strategy
: your 4-step strategy to eat safely, not go hungry, avoid celiac burnout, and prevent overwhelm

-
A COMPLETE step-by-step guide to dining out in restaurants
with celiac disease, including how to find safe restaurants, scripts for ordering food, & red flags to watch for


-
Videos, Scripts, Journals, and Tools
to help you eat safely and avoid stress at your next celebration/event

-
Boundary setting exercises
to build your confidence & comfort levels with speaking up


-75+ ready to use responses you can practice
& use to respond to rude/unwanted comments about celiac disease
HERE'S A PREVIEW OF THE COURSE:
Available in days

days after you enroll

Welcome!
Available in days

days after you enroll

The Celiac's Guide to Social Events
Available in days

days after you enroll

Thank You & Your Next Steps!
WHY LEARN FROM ME?


I've been living with celiac disease since 2009.


I'm no stranger to the discomfort, the awkward attention, and the struggle of eating around others.


But I realized early that I didn't want to not have a social life because I couldn't eat gluten!

So I adjusted my mindset & realized that I COULD still participate in a way that fit my needs. And that's what you'll find here.




I have a Master's Degree in Curriculum & Teaching.


Before I became a celiac coach, I was a high school teacher. Confidence building & empowering others is my JAM.
I will hold your hand but also hold you accountable so you can quickly start using these strategies and attend your next party, wedding, or gathering and not miss out on those special moments!
I'm certified in Allergen Training.
I understand the seriousness of dining out with celiac disease. I've completed two different trainings (ServSafe & FARE - Food Allergy Research & Education) to ensure I'm helping you eat as safely as possible -
especially around others. I also work closely with a dietitian that specializes in celiac disease and only reference reputable, evidence-based resources in my courses.
What Students Have Said About The Course


"Before this course, I was struggling with
what questions to ask restaurants to make sure the food was celiac safe. I also had no idea where to start for an upcoming wedding I was attending.
I have gained so much confidence in navigating social events and dining out!
I know exactly what so do for so many different situations:
restaurants, concerts, weddings, work events, and more!"
-Alyssa A.
"This course gave me specific tools to apply and language to use while advocating for my needs. These strategies are applicable to many settings and
I often find myself asking "what does Jen suggest?" She has yet to steer me wrong!
This course is comprehensive and transferrable to many kinds of social events.
"
-Liz H.

If you're ready to:

-Know exactly what to say to avoid cross-contact & getting glutened in restaurants

-Stop the mental burnout with celiac so you can have a social life you enjoy participating in

-Feel prepared & excited to attend your next party, wedding, or event with food

-Actually enjoy yourself & have something safe to eat at weddings, dinner parties, holidays, and events..

This is the course for you!

Frequently Asked Questions
Is this course only for people with celiac disease?


No. While I have celiac disease, I've designed the course to be applicable for anyone that avoids gluten for health-related reasons.


What can I expect from taking this course?


You can expect seven mini modules on dining out with celiac disease around others in social settings with step-by-step videos, guides, PDF's, and scripts.


Can I take the course at my own pace?


Yes, you can. The course is in a mini-format, meaning you can finish it in one morning or afternoon, or just reference it on your phone when you have an upcoming event.


What if I'm not satisfied with the course?


I do not allow refunds under any circumstances.






Do you offer any guaranteed results?


No. There are no guarantees when living with celiac disease in gluten-filled world and food system.
The course includes the exact strategies that I use for navigating social events with celiac. But the results of actually applying these methods and feeling prepared have to come from you, your mindset, and the work you put into applying the knowledge you've learned.


If you need someone to hold your hand and take you through speaking up and dining out on the gluten-free diet, it sounds like 1:1 gluten-free coaching might be a better fit. Please visit this page for more information.



Please note I am not a medical professional or healthcare provider nor do I claim to be. This course should not be considered treatment for a gluten-free diet. Please speak to your doctor or healthcare professional regarding treatment for celiac disease.