A step-by-step guide to plan a trip with celiac disease.
Does traveling with celiac disease stress you out?
Perhaps you...


Struggle to not go hungry on long travel days and end up eating just GF granola bars...


Feel like finding safe restaurants is so hard, especially away from home


Hate relying on restaurants but you don't want to spend your entire vacation cooking either!
WHAT IF I TOLD YOU THERE'S A BETTER WAY?
What if I told you you CAN have a safe vacation...


...Without being stressed the ENTIRE time?


...Without constantly getting glutened?


...Without surviving on just granola bars for long travel days?
With some planning, preparation, and going slow, your bucket list vacations are 100% possible.
I was once in your shoes.


When I was diagnosed with celiac disease in 2009, I thought my travels were over.


But I refused to let gluten stop me from seeing the world, so I spent 10 years figuring out the best strategy.
I tried relying on snacks like granola bars for long travel days, which only left me hangry.
I tried Googling restaurants at the last minute, only to feel rushed and get glutened afterward.
I tried cooking all my own food on vacation, but it was a ton of work and I felt I was missing out.


And then traveling started to feel more stressful than fun.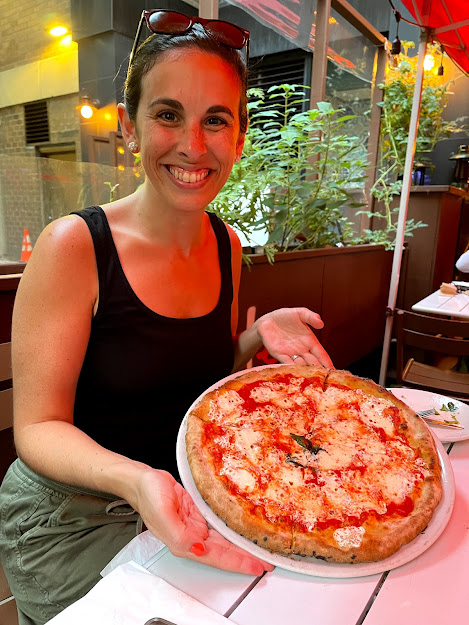 Do you want to know what I realized?


Traveling gluten-free is not the same as regular travel.


You need the right balance that lets you fuel your adventures, eat safely in restaurants, but not get burnt out!


And after ten years with celiac, I finally found that balance.
You can have an AMAZING travels adventures on the gluten-free diet...


-without frantically Googling restaurants at the last minute


-without a travel agent or agency - you can do this YOURSELF!
-without packing an entire extra suitcase for granola bars


-without coming home feeling like you need a "vacation" from your "vacation!
In 2019, I backpacked around the globe for six months with celiac disease across five continents.


Without getting glutened the entire time.


Without missing out on amazing food, hikes, and cultural traditions.


Without feeling overwhelmed, wondering "What will I eat?!" every single day.
I realized if I could do it, ANYBODY could.


And that's exactly what I'll teach you in this online course!
A Preview Of ALL The Modules:
WHY LEARN FROM ME?


I've been traveling with celiac disease since 2009. And I travel often.


I'm not a "one trip a year" person. I have a minimalist approach to belongings and clothing so I can use that money for traveling. I travel at least once a month, and have been to 25 US states, as well as 25+ countries across 5 continents.


I have a Master's Degree in Curriculum & Teaching.


Before I became a celiac coach, I was a highly proficient and respected high school Spanish teacher for eight years. Creating courses and teaching skills to others is literally what I did for my job.
I'm certified in Allergen Training.
I understand the seriousness of dining out with celiac disease. I've completed two different trainings (ServSafe & FARE - Food Allergy Research & Education) to ensure I'm helping you travel as safely as possible.
What Students Said About The Course Itself...


"I was an avid traveler pre-diagnosis and post-diagnosis I found myself unable to even leave my house because of the struggle I knew it would take to eat. After the course I realized lots of people travel all the time with celiac. I learned some tips and tricks that would make traveling easier. And I learned to make finding gluten-free food part of the adventure!
- Jennifer R.


What Students Have Said About Traveling After Taking The Course..


"I was so overwhelmed being newly diagnosed and worried about how I would eat traveling anywhere. The course gave me a starting point for this new lifestyle and broke it down into manageable steps that I could easily start to taking. I recently went on an almost entirely stress free vacation to Vegas where I ate like a queen."
- Anonymous
If you're READY to make your future travels more successful and less stressful, I can show you how.


Because the sooner you start practicing this strategy, the sooner you'll be ready to travel anywhere your heart desires.
Frequently Asked Questions


Is this course only for people with celiac disease?


No. While I have celiac disease, I've designed the course to be
applicable for anyone that avoids gluten for health-related reasons.


What can I expect from taking this course?


You can expect 7 modules of travel advice, videos, information, resources, and strategies designed to help you confidently plan a trip or vacation safely on the gluten-free diet.


Can I take the course at my own pace?


Yes. This is a self-paced course, meaning there is
no live teaching component.
The course is structured into seven modules that you can break into weeks, or even days.
If you are looking for someone to teach you this material 1:1,
please visit this page before purchasing.


What if I'm not satisfied with the course?


I do not allow refunds under any circumstances.


As a public school teacher with a Master's Degree in Education, a celiac world traveler, and a gluten-free lifestyle coach, I designed this course to to teach how to take a trip on a gluten-free diet. If you are unsure if this course is right for you or have questions about the course, 
please schedule a free strategy call with me before purchasing.


Do you offer any guaranteed results?


No. Your personal needs, knowledge, skills, comfort levels, and sensitivity levels surrounding living gluten-free may be different than someone else's. The results of actually traveling safely and feeling more prepared to do so have to come from you, the work you put into learning, practicing, and applying this knowledge, and how you go about traveling. There are no guarantees for safety when traveling with celiac.
If you need someone to hold your hand and take you through planning a trip on the gluten-free diet, it sounds like 1:1 gluten-free coaching might be a better fit. Please visit this page for more information.


Please note I am not a medical professional or healthcare provider nor do I claim to be. This course should not be considered treatment for a gluten-free diet. Please speak to your doctor or healthcare professional regarding treatment for celiac disease.