Let's be honest - getting glutened is the WORST.

And unfortunately, there's always a risk when dining out with celiac disease - especially in restaurants, where celiac isn't well known!

But YOU can significantly lower the chances of getting sick by how you order your food.

Inside this 1-hour masterclass, I'm sharing my strategy for dining out in a restaurant with celiac disease and staying as safe as possible from gluten!

What people said about this masterclass:
When I was first diagnosed with celiac disease, I didn't know what I was doing in restaurants.

I would pick items that just didn't have gluten-containing ingredients..

Or I'd tell the server I needed something "Gluten-free" and assume they understood.

And after getting sick on multiple occasions, I realized my strategy wasn't working.

Something had to change.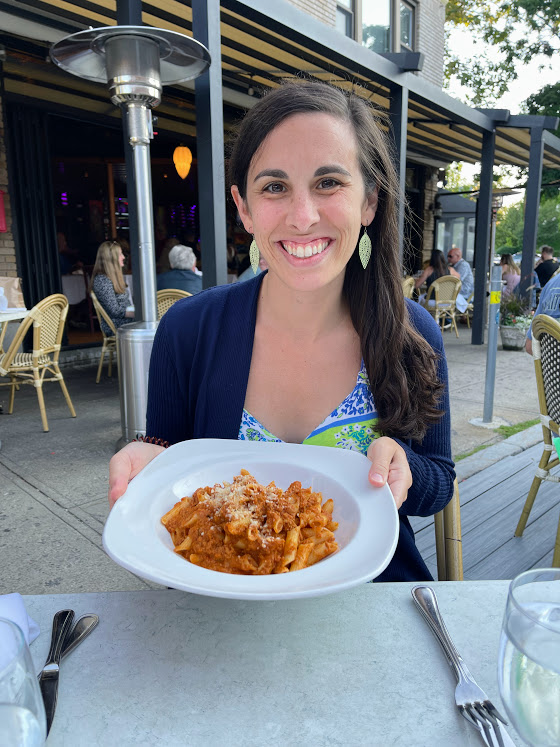 Meet Jen: Your Celiac Coach!


After 14+ years with celiac, I know how challenging eating in restaurants can be.

I got glutened SO much the first few years and it led to multiple other health issues.

It wasn't until I took allergen trainings that I realized how LITTLE restaurants know about celiac disease that I knew I had to do more than say "gluten-free".



You'll Gain Access To:

-1 Hour Recorded Masterclass
based on 4 allergen trainings and 14+ years of experience getting glutened in restaurants, so you know how to PREVENT them from happening!
-3-Step EAT Framework
for
preventing
gluten exposures and cross-contact in restaurants, with step by step food examples, scripts, and meals to walk you through this.
-Scripts For Ordering
to be
best
understood by servers in a restaurant setting, including clarifying preparation of your food

-Downloadable Workbook
to prepare for your next restaurant visit with scripts and examples for speaking to restaurants & ordering food, and making sure you are in the right headspace for dining out
And look at what you could be doing!

Yes, you CAN dine out with celiac disease.

And while there is always a risk
for dining out, you have the power to
lower
that risk.

To make
strong decisions based on the information.
To speak up for yourself
and know your needs are worth voicing.

To prevent cross-contact from happening
as much as possible.


And I'm teaching you the key piece of your dining out strategy you're probably
overlooking
inside this 1-hour masterclass.


We're going deeper than just saying "I'm gluten-free."


That way, no matter what the menu says, you'll feel prepared to speak up, order food, and minimize the chances of getting glutened.
Frequently Asked Questions


Is this class only for people with celiac disease?


Yes, this training is specifically for those who have celiac disease.


What can I expect from taking this class?


This is a 1-hour pre-recorded masterclass focused on helping you lower the chances of gluten-exposure in restaurants.
What if I'm not satisfied with the class?


I do not allow refunds under any circumstances. I created this masterclass and recorded it with you in mind to help you LOWER the chances of getting sick in a restaurant.
Please be sure before purchasing.

Will this course guarantee I won't get sick when dining out?

No, but it will significantly lower the chances. There are no guarantees when dining out with celiac.

But this class can significantly reduce your risk that you get sick, lower your stress levels, and help you feel more confident making decisions in restaurants.

Please note I am not a medical professional or healthcare provider nor do I claim to be. This masterclass should not be considered treatment for a gluten-free diet. Please speak to your doctor or healthcare professional regarding treatment for celiac disease.