Does this sound like you?


Are you nervous to say yes to invitations for holidays, parties, and dinners?


Does eating gluten-free around other people make you feel super awkward and uncomfortable?

Or, did you recently attend an event and it was such a disaster (You were starving, you got glutened, or you were anxious the whole time), you wish you hadn't gone at all?

You're NOT alone!



If you want a better way for attending events where both food and people are involved...

You need a strategy!

That way you can focus more on having fun and less on stressing over gluten.

Listen, here's the truth about celiac disease:

Celiac disease can feel so exhausting when you're eating at parties, holidays & events.

Because you are the one that has to make sure you don't get sick and watch out for gluten the whole time.

And that can take away from the enjoyment and the fun.

So if you want to continue having a social life with celiac AND keep yourself safe you need to be able to do these 3 things:

1) Understand celiac safety & how to prevent cross-contact at these events


2) Honor your social batteries so you don't feel burnt out

3) Have the right strategy between speaking up & self-care so you can KEEP enjoying social events in the future!

That's what's inside the Celiac's Guide to Social Events!

With this mini course...

You will have a PLAN to stay safe as safe as possible & prevent hanger at events with food!

You'll have SCRIPTS to practice so you won't have to spend that mental energy thinking of what to say.

You'll have SELF-CARE practices to balance these events so you don't feel mentally fatigued.

And then you can spend more time making memories, having fun, and enjoying yourself for years to come!

Because you DESERVE to have that - WITH celiac disease!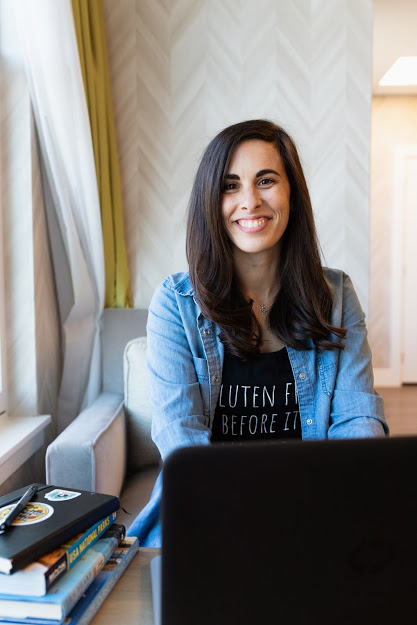 Meet Jen: Your Celiac Coach!
After thirteen years with celiac, I know personally how challenging it can be to be the only person eating gluten-free. Especially around other people!

Now, as a celiac coach, I teach my clients how to become their own best advocates and attend weddings, holidays, parties, and events - WITH celiac disease!

WHY LEARN FROM ME?


I've been living with celiac disease since 2009.


I'm no stranger to the discomfort, the awkward attention, and the struggle of eating around others. I'm with you and I have 13 years of experience to share.


I have a Master's Degree in Curriculum & Teaching.


Before I became a celiac coach, I was a highly proficient and respected high school teacher for eight years. Creating courses, teaching skills, and empowering others is literally what I did for my job - and what I continue to do in this space.
I'm certified in Allergen Training.
I understand the severity of dining out with celiac disease. I've completed 4 different trainings (Always Food Safe, ServSafe, FARE, Beyond Celiac GREAT Training) to ensure I'm helping you eat as safely as possible.
Here's What You Get Inside The Mini Course:

-The CALM Framework: My 4-step strategy
to avoid mental burnout from celiac disease, plus an editable workbook to journal after your event

-7 "Mini" Modules on Social Events,
including restaurants, bars, holidays, weddings walking you through HOW to attend them safely with celiac!

-Scripts for Speaking Up
,
pre-written scripts ready to use for each event, including scripts for speaking to hosts that want to cook for you & how to politely express your boundaries
-Video Trainings
from Jen with personal recommendations for navigating social events with celiac disease from a 13-year veteran.


-80+ responses
for rude/invasive questions about celiac disease, so you have easy, ready-to-use answers you can practice & prepare for those uncomfortable moments.
-10 Self-Care Ideas
to practice resting & recharging before or after an event with celiac disease to prevent burnout
Here's how students inside this mini course are celebrating & making memories with celiac disease!
Are you ready!?

-To know what to say to avoid gluten & keep yourself safe at events that involve food?

-To stop the mental burnout with celiac so you can still have a social life you enjoy participating in?

-To make memories, enjoy yourself, and say YES to those invitations for years to come?

Sign up below to you can quickly feel more prepared for your next social event!

Frequently Asked Questions

Is this course only for people with celiac disease?


No. While I have celiac disease, I've designed the course to be applicable for anyone that avoids gluten for health-related reasons.


What can I expect from taking this mini course?


You can expect seven mini modules on dining out with celiac disease around others in social settings with step-by-step videos, guides, PDF's, and scripts.


Can I take the course at my own pace?


Yes, you can. The course is self-paced, meaning there is
no live teaching or coaching,
and is in a mini-format, meaning you can finish it in one morning or afternoon, or just reference it on your phone when you have an upcoming event.


What if I'm not satisfied with the course?


I do not allow refunds under any circumstances.
I designed this course to to teach you how to be prepared for dining out away from home and prevent burnout.
Please be sure before purchasing.


Do you offer any guaranteed results?


No. There are no guarantees when living with celiac disease in gluten-filled world and food system.
The course includes the exact strategies that I use for navigating social events with celiac. But the results of actually applying these methods and feeling prepared have to come from you, your mindset, and the work you put into applying the knowledge you've learned.
Please note I am not a medical professional or healthcare provider nor do I claim to be. This course should not be considered treatment for a gluten-free diet. Please speak to your doctor or healthcare professional regarding treatment for celiac disease.