Imagine feeling prepared & capable of dining out in a restaurant with celiac disease.

Imagine being able to LOWER your risk of gluten exposure when eating in a restaurant!

It IS possible for you!


But between gluten-friendly menus, being confused for vegan, and people who think avoiding gluten is a fad…
It's a battlefield out there in restaurants.


While dining out with celiac disease always comes with a risk, you have the power to lower that risk and make smarter decisions about your food.


If you want to be better understood by restaurant servers and reduce the chances of getting sick…


It doesn't happen by saying "I'm gluten-free" or "I need that dish gluten-free."


Because most people don't even know what gluten even is!


You have to:


1) Be comfortable speaking up for your celiac needs in front of others


2) Identify possible sources of cross-contact for your food

3) Explain exactly how you need your food prepared!
 

That way, no matter if the menu says gluten-friendly, gluten-free, or you're at a restaurant that only has a sentence that says
"please inform your server if you have a food allergy"...


You know what to do and how to prevent gluten exposures!

And that's exactly what I'm teaching you inside this Masterclass!
This masterclass will give you the strategies & techniques to:

-LOWER your risk of gluten exposure in restaurants with celiac

-IDENTIFY sources of cross-contact & how to prevent it

-BUILD your confidence to speak up for your needs to make smart decisions

-KNOW what to do for all kinds of restaurant situations, & curveballs!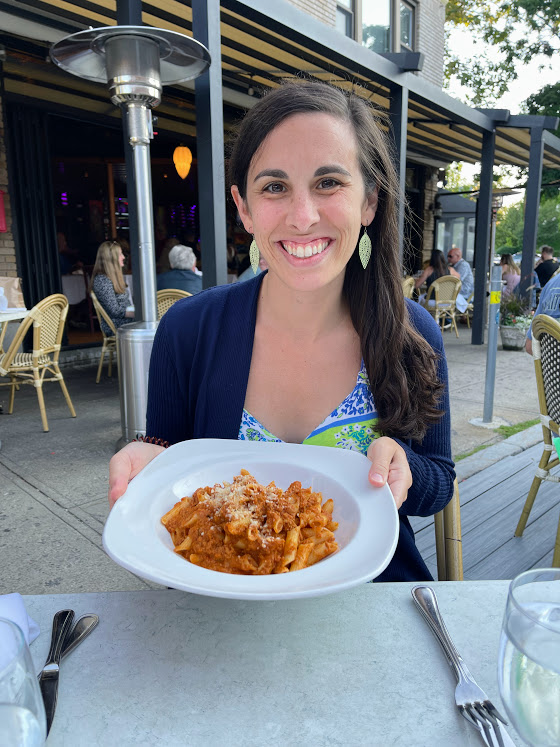 I've Been In Your Shoes.


After thirteen years with celiac, I know personally how challenging it can be to dine out in a restaurant with celiac disease.

Today as a celiac coach, I help my clients dine out safely with celiac disease and know what to do to prevent gluten exposures in restaurants.



WHEN IS IT?
Thursday, September 29th, 2022 at 7:00 PM EST on Zoom!

WHO IS IT FOR?
This is a live masterclass for newly diagnosed celiacs or anyone that struggles to eat out in restaurants with celiac disease.

HOW LONG IS IT?
This masterclass is jam-packed with information! It's scheduled for a full 2 hours with Q&A at the end. So bring a notebook, your favorite gluten-free snack, and get ready to learn & spend time with other celiacs just like you.

CAN THIS MASTERCLASS GUARANTEE I WILL NEVER GET GLUTENED AGAIN?
No. There is always a risk of gluten exposure when dining out - that's a fact. But this masterclass is going to teach you how to prevent that from happening
and can
significantly lower the chances.
WILL THERE BE A REPLAY?

Everyone who attends the masterclass live will receive an editable workbook & a copy of the slides from the presentation!
What Clients Have Said About My Classes & Programs...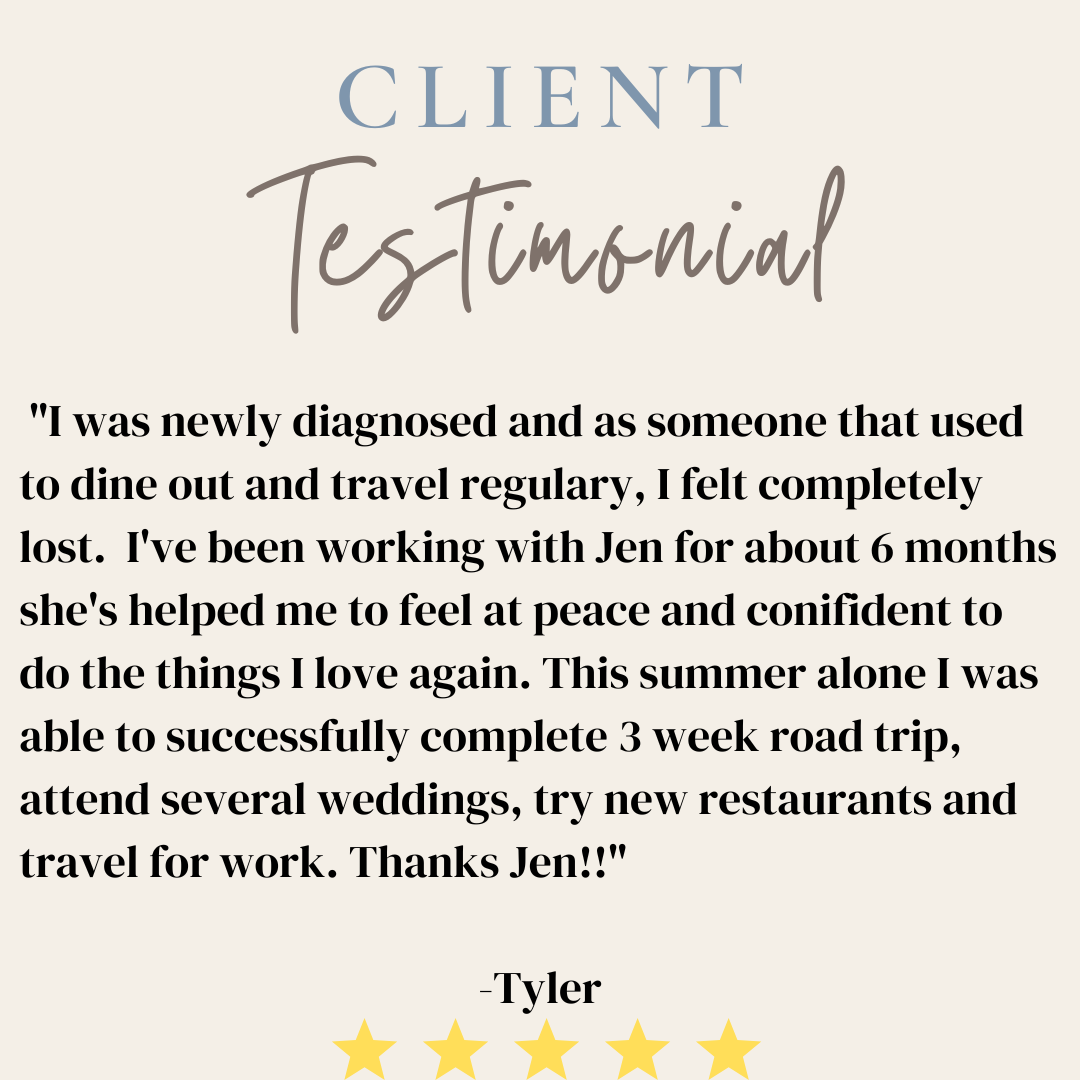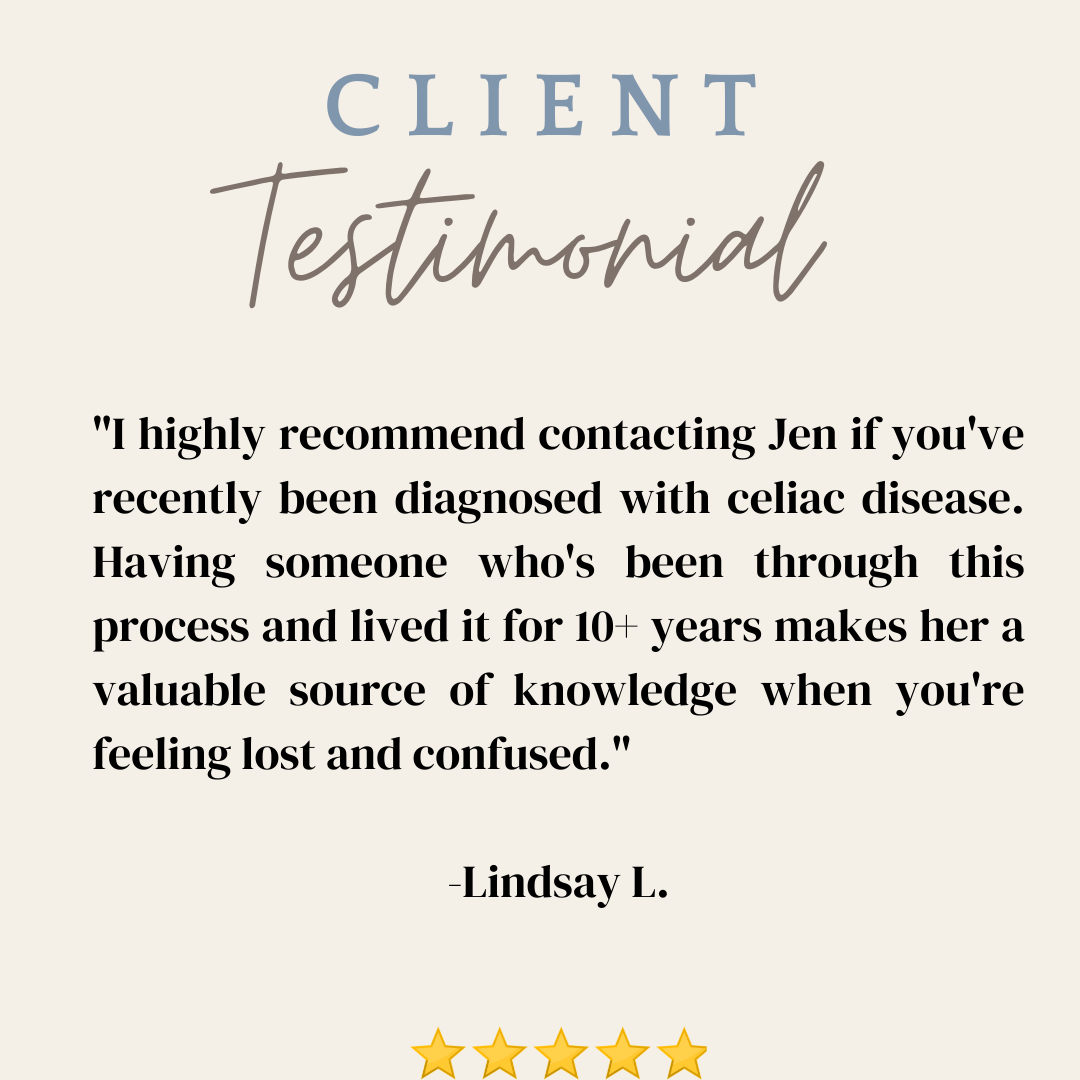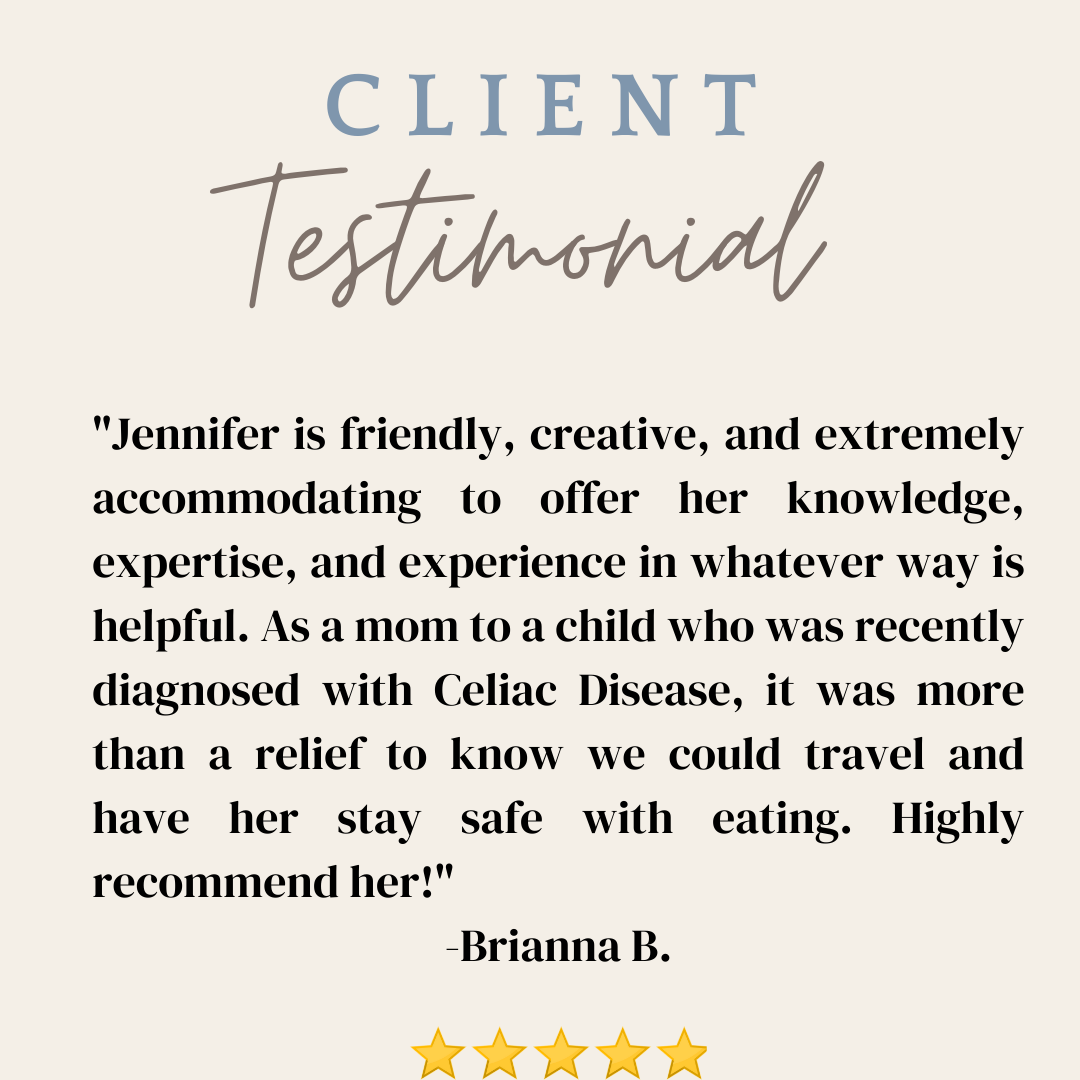 What's Included:

-2 Hour Live Masterclass on Restaurant Dining via Zoom to teach you exactly how to lower your risk of gluten exposure in restaurants.

Everyone who attends this live masterclass will also get a copy of the slides from this presentation!

-Downloadable Restaurant Workbook to help you plan & prepare for your next restaurant outing/dinner out!

This is an editable, printable workbook you will receive with
scripts, strategies, & encouragement for dining out with celiac disease.

-Community with other celiacs!

This masterclass will be a chance to not only learn about celiac safety & restaurant dining, but a chance to have FUN & connect with other celiacs just like you!

People who are frustrated by "gluten friendly" menus and celebrate finding a dedicated gluten-free bakery. People who immediately understand what you are going through.

Come hang out & learn with members of your community!

You CAN have a social life and stay celiac safe.

You CAN eat in restaurants and know what to do.

You CAN do these things!

It's my goal to show you what is possible when you say YES to your new gluten-free life and are ready to start your next chapter!

When you accept that things will be different now but are excited, eager, and willing to LEARN so you can get back to enjoying the things you love.

But you need the right strategy to keep yourself safe AND not be stressed the entire time!

Just saying you have celiac disease or a gluten allergy isn't enough!

It's time to do something so that no matter the restaurant, you are prepared and confident knowing exactly what to do!

(Even when your server says "Celiac? What's that?")

That's what you can do with this masterclass.

Are you IN?